Please make sure you have downloaded the whole theme bundle together with the dummy. Look inside ../Dummy/ folder demo files.
Important for The7 v2: Navigate to Appearance > Install plugins and install DT-Dummy plugin. Then go to Tools > Import Dummy and follow the onscreen instructions. To know more about using the plugin please READ THIS
How to download the whole theme pack at ThemeForest:
In your ThemeForest Profile -> Downloads tab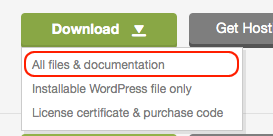 You can find more information on how to import the demo content here: How-to-upload-dummy-content
Note 3 things:
1. The Full demo is huge, so we cannot guarantee you'll be able to install it. Please install compact demo
2. Images on demo are copyrighted and you cannot use them without purchasing proper licenses. Ideally you must refuse importing media files during content installation. So we are not responsible for any possible copyright infringement.
3. Demo will only import contents, will not include widget settings or menus. You will need to configure them manually.
Also you will need to set home page in settings > reading, import theme settings, sliders if needed.
If you cannot import demo content please make sure that your php.ini settings are not less than:
max_execution_time = 60
memory_limit = 256M
post_max_size = 64M
upload_max_filesize = 64M
You can contact your hosting company for more details and assistance on it.
Theme Options for demo content
You can find theme options for specific demo content inside corresponding folder, for eg for Business demo : ../Dummy/Business/business-theme-options.txt
Then go to Theme Options > Import/Export, paste the content from the text file to the input area and click on Save Settings.
Revolution Slider demo content
You can also find Revolution slider demo content inside corresponding folder, for eg for Business demo : ../Dummy/Business/Slider Revolution/
Revolution Slider Export/Import tool user guide can be found here
In order to apply captions.css file, please open any slide and click on "Edit Global Style" button and replace the whole content in the pop-up window with content from captions.css file: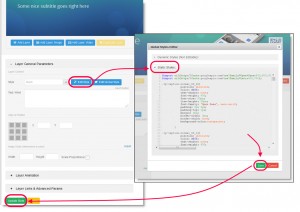 Click "Update Slide".
Alternatively, you can simply upload captions.css into …/wp-content/plugins/revslider/css/ folder.
Layer Slider demo content
Find Layer slider demos in corresponding folder in Dummy folder
Follow Dashboard -> LayerSlider WP -> "Import & Export Sliders" tab, click "Browse" and select LayerSlider_Export_… .json file.
By downloading and installing demo content you automatically confirm that you've read and agree to the terms above. 
GO Pricing Tables demo content
Find GO Pricing Tables demo inside theme bundle ../Demo Content/Go_pricing_tables.txt
Follow Dashboard > GO Pricing > Import & Export, select action: Import, select demo file and import.